---

The Paragon Service
Paragon enables you to benchmark all aspects of your performance, and quickly and easily see how the profitability of your firm compares with other similar firms of solicitors.

Assess your Profitability
Profile of Key Results
The profile shows a firm its relative position for a number of key performance indicators.
Major Cost and Profit Analysis - Extract from Table 1
Each firm receives a report showing its results confidentially under a code letter compared with up to 20 other selected firms.
On tables 2 and 3, the following detailed information is given:
Check your Staffing

Staff - Structure and Costs - Table 2

Staff Structure (% of all staff)
16a Equity Partners
b Salaried partners
c Assistant Solicitors
d Legal Executives and Paralegals
e Trainee Solicitors
f Typists and word processor operators
g General Managers
h I.T. staff
i Marketing staff
j Accounts/cashiers
k Other administration staff
l Financial Services/Estate Agency etc. staff

Staff per equity partner
17a Fee earners
b Others
18 Support staff per fee earner

Employee cost per head
19a Salaried partners
b Assistant Solicitors
c Legal Executives and Paralegals
d Trainee Solicitors
e Typists and word processor operators
f General Managers
g I.T. staff
h Marketing staff
i Accounts/cashiers
j Other administration staff
k Average administration staff (19i-19j)


Benchmark your Productivity

Staff Productivity; Charging; Accommodation
- Table 3

Staff Productivity
20 a Revenue per Staff Member (inc partners)
b Revenue per Fee Earner
c Revenue per £ of notional staff cost (includes notional salaries)
d Revenue per £ of paid staff cost
Charging
21a Do you calculate expense rates?
b Fixed Fee Proportion of client work income
Average Charge-out rates (per hour)
22 a Partners
b Assistant Solicitors
c Legal Executives
d Trainee Solicitors

Chargeable hours recorded
23 a Partners
b Assistant Solicitors
c Legal Executives
d Trainee Solicitors

Accommodation Costs (% of revenue)
14a Rent
b Rates & Water Rates
c Heating, lighting, cleaning
d Property repairs & Insurance
e Accommodation costs per sq.ft.
f Floor area per member of staff

A further four tables and five appendices enable you to explore these topics in detail:
Are your overheads too high?
Operating Costs (as percentage of revenue) - Table 4
How fast are you growing?
Revenue and Growth - Table 5
Compare Income and Costs per head - are you collecting income quickly?
Revenue, Costs and Profit per staff member; Current Assets - Table 6
Measure Profit by Work Type
Appendices A-E analyse profitability of conveyancing, trust and probate, litigation, commercial and other work.


Why not ask us to prepare an individual report of your performance?
Participants can receive written analysis of their firm's performance prepared by one of our directors. It consists of some 20 pages of text, charts, tables and profiles, illustrating your results. The analysis follows the sequence shown in the flowchart below:

Performance Analysis Flowchart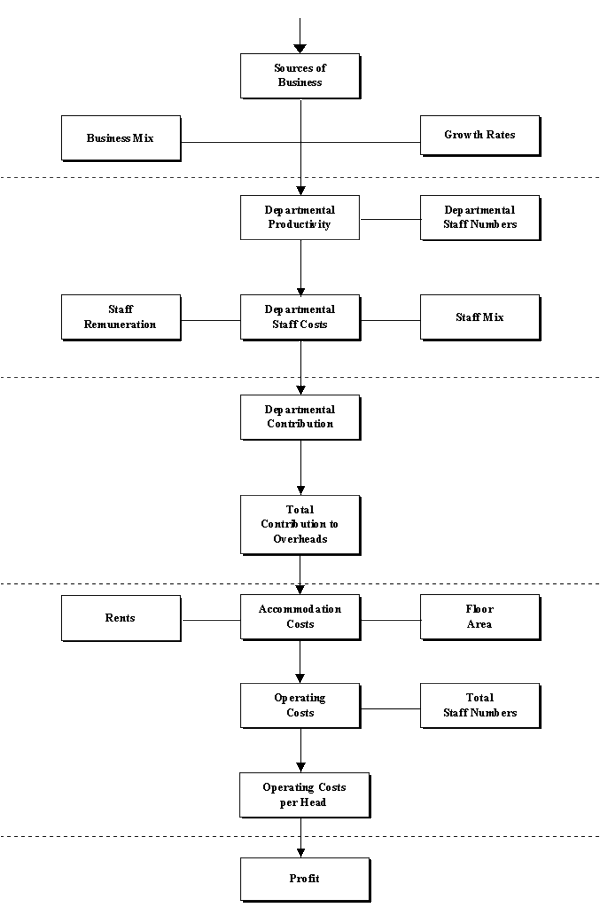 Some of the charts used are shown below:
Net Profit per Partner

The Paragon Matrix
| | |
| --- | --- |
| Revenue Growth | Overhead Costs and Savings |
Click on the link above to see our twenty-year review of solicitors' performance.